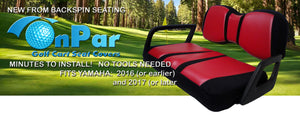 CUSTOM GOLF CART SEATS TO MATCH YOUR RIDE
Split Back Bucket Golf Cart Seat
The Split Back Bucket Golf Cart Seat is our Premium Seat.  With over 100 colors we are sure you will find your perfect customization.
Available for Yamaha and EZ-GO models ONLY.
Crossover Bench Golf Cart Seat
Classy and Comfortable with full back support and generous cushioning, you'll love the Crossover Bench Golf Cart Seat.
Available for Yamaha, EZ-GO and Club Car models.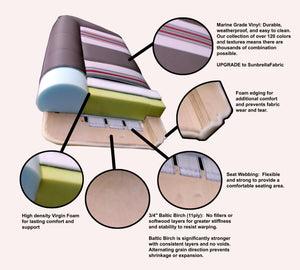 Inside Look
Special attention to the procurement of the BEST available materials combined with superior construction and the talents of professional sewers and upholsterers is why BACKSPIN SEATING is at the forefront of quality and comfort!
BACKSPIN SEATING
Featured in Golf Car Option October 2020 issue.

MADE IN THE USA.
BACKSPIN SEATING CATALOG 2020
Backspin Custom Golf Cart Seats are manufactured one by one in a modern production facility by a team of experienced professionals. We use high-caliber materials that deliver tangible benefits.
Our seats retain their beautiful form because we make them with impact-resistant molded foam. As an added safety feature, each Backspin armrest is built with heavy-gauge steel and rugged hardware for durability and strength. Seats install quickly and easily.
Backspin Custom Golf Cart Seats are upholstered with low-maintenance, weather-resistant, high-performance textiles. There are neons, brights, camouflage, textures, caution yellow, incredible metallics, leatherettes and more.
All single and double topstitching is color-coordinated to match each individual seat.
Each of our Golf Cart Seat models are for Yamaha Drive (2004-2016), Yamaha Drive (2017-present), EZGO RXV (2008-2015) EZGO RXV (2016-present) and Club Car (2004-present).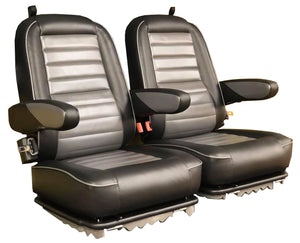 UPGRADE with STYLE
Go Bold with the Double Eagle Horizontal Flute design, or add a WOW with the Diamond Tuft style.  Give your seat a special FLAIR with Sunbrella Fabrics.   These upgrades are available on all our models.